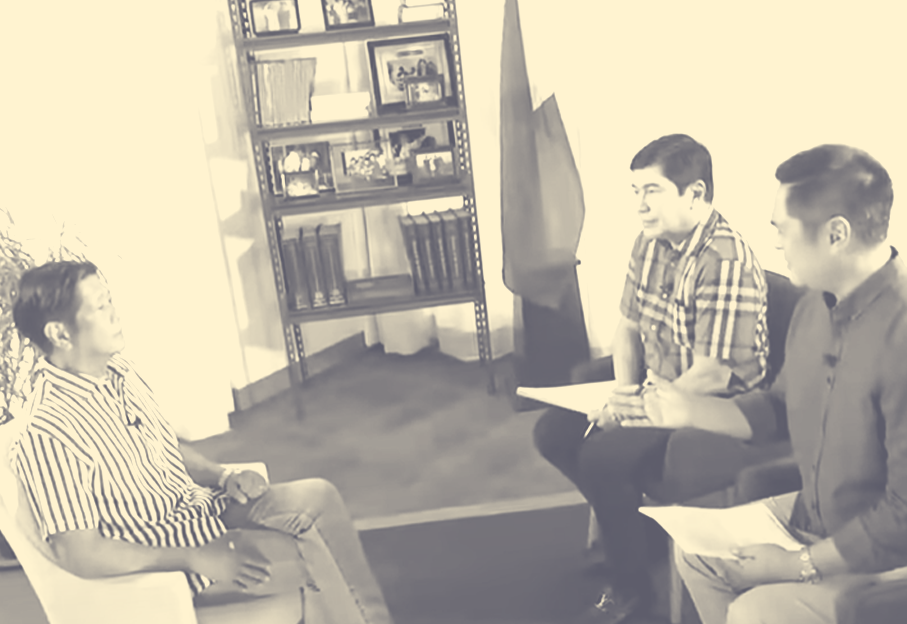 Lies
The Bongbong and Imelda Marcos deuterium dud
By
Miguel Paolo P. Reyes and Joel F. Ariate Jr.
Originally published by Vera Files on May 7, 2022.
If surveys on the fast-approaching elections hold, the Philippines will soon have a president who has difficulty discerning fact from pseudoscience — the way his mother also does.
On March 19, 2022, Martin Andanar, acting presidential spokesperson, asked Bongbong Marcos in an interview if he, like his mother, former first lady Imelda, "really believe[s] that there is deuterium in our country."
This was his full reply:
Ah that, that's not question, ep . . . people it's been established that ah . . . especially, kasi 'yung sa malalim, ah . . . nand'yan 'yung Marianas Trench sa atin, nand'yan 'yung sa . . . what—seven kilometers deep. Ah, that, that's established that it, it belongs there—ah it belongs there—ah that it exists in those places. But it is something na, for, that, that, we will use for a hydrogen-based econ—ah energy economy. Ah . . . it will take time. Eh, for the future siguro p'wede nating tingnan nang mabuti 'yan. Ito'y kasi ah . . . eh hydrogen is very clean, very green. Ah, ang ang ang ah . . . waste ng ng deuterium, pagka gumawa ka ng hydrogen, ginamit mo 'yung hydrogen, ginamit mo ginawa mong fuel cell, ang lumalabas dyan, lang dyan is tubig. So walang, walang carbon ah . . . emissions ah . . . kaya't malinis. But that's for the future kasi it will require the same infrastructure that we now have for gasoline and for, ah . . . ano, for diesel, and for PNG, and LPG. All of these systems now took, what, over a hundred years to establish. Ah . . . kailangan magrere-adjust tayo. But I think because of the concerns with global warming, du'n ta . . . du'n talaga tayo papunta. At uhm . . . the time will come that we will start to shift to other alternative fuels, the greener fuels, and become a greener economy, we will have a greener system of energy. Nagsimula na, mula nung COP 26 na nagmeeting sa Edinburgh, na ang pinag—, binawasan 'yung ah . . . pag ah . . . paggamit ng coal. Ang problema walang kapalit na renewable. Kaya tumaas ang presyo bigla. Kaya bumalik na naman ng kaunti dinagdagan na naman ng coal-fired, nga ga, ng kuryente na galing sa coal-fired at ah . . . kaya kailangan talaga natin babalansehin lahat 'yan. That's why deuterium is still very attractive ah . . . ah . . . attractive resource . . . ah para sa atin because hydrogen is, has been established, as a clean ah . . . as a clean alternative, a greener alternative to fossil fuels. So, yes, ah . . . 'yung mother ko talaga malayo mag-ano 'yan eh, malayo talaga mag-isip 'yun, she's very forward-thinking. So that's, that was her thinking when she ah . . . started to show an interest in the deuterium deposits that have been established around the Philippines.
Bongbong erred when he said that the Marianas Trench is seven kilometers deep (it's 11.034), that COP 26 was held in Edinburgh (it was in Glasgow), or that the pursuit of a greener economy began with COP 26 (as quite clear in the name, it was the 26th Conference of the Parties to the United Nations Framework Convention on Climate Change), and there is no mistaking his admiration for his "very forward-thinking" mother.
The son's admiration for Imelda's supposed prescience seemed to equal the intensity of his belief in deuterium. While a senator from 2010 until 2016, Bongbong filed two bills: Senate Bill 2593 on November 15, 2010 and SB 408 on July 3, 2013. These were identical bills for a Hydrogen Research and Development Center. Both died at the committee level.
The bills failed in their primary objective but succeeded in putting into the Senate's legislative record, through the explanatory notes, this particular claim regarding deuterium: "Hydrogen is being processed from deuterium which is heavy water or hydrogen water without oxygen. This is obtained from the deep trenches of the world and the world's largest deposit of deuterium is in the Philippines."
Bongbong, while running for vice president in 2016, referenced SB 2593 in a press release to burnish his credentials as an advocate of alternative energy sources.
Mother and son's conviction that the country has access to unparalleled deuterium deposits goes against peer-reviewed scientific research. At least one public historian, scientists, and journalists, have used that research to cure those who suffer from what is called "deuterium delirium," but debunking does not always work in this age of disinformation.
THE SCAM BEGINS
When the first claims on deuterium deposits in the Philippines appeared in local media after the 1986 EDSA Revolution, the naturally-occurring hydrogen isotope was touted to be the resource that would solve the country's economic woes.
At the time, everyone was aware of the enormous debt that the Marcoses burdened the country with before they were deposed. In a series of online articles about the deuterium hoax, the late historian Bob Couttie found an article released in August 1987 by the Media Mindanao News Service.
The article featured a local "scientist," Cesar Escosa, who believed the "Philippine Deep in Surigao [del] Norte holds the largest deposit of deuterium." He said this could be mined to "pay all [the country's] foreign debts," allow overseas Filipino workers to come home to "higher paying jobs," and provide the world with an inexhaustible source of fuel. Escosa supposedly claimed that Washington and then president Cory Aquino was discussing the "deuterium project" as early as March 1986.
Escosa's claims have not been backed by any reliable source.
Before he was declared a nuisance candidate when he tried to run for senator in 2001, Escosa said he was an accountant. He was also declared a nuisance when he filed his certificate of candidacy in the 1998 presidential race.
But there were other deuterium believers, notably in the House of Representatives. In August 1987, Rep. Mario S. Ty of Surigao filed House Resolution No. 98 requesting the "Departments of Environment and Natural Resources and Other Concerned Agencies of the Government to Conduct Feasibility Studies and Surveys to Determine the Presence of Deuterium Off the Coast of Surigao in Aid of Legislation." In the same month, Glenda Ecleo of Dinagat filed HB 483 establishing the Philippine Deuterium Development Authority. Not to be outdone, Ty filed a similar bill.
Both died at the committee level.
In response to "numerous inquiries," likely stemming from Escosa's claims and these legislative filings, the Nonconventional Resources Division (NCRD) of what was then called the Bureau of Energy Development, Office of Energy Affairs (OEA), released a backgrounder entitled "Deuterium Explained" in the April-September 1987 issue of the NCRD newsletter Energy Alternatives.
In fairly accessible language, the NCRD affirmed that deuterium, "in combination with hydrogen, is already a recognized source of energy," and that hydrogen was at the time "already being used as fuel for rockets and spacecrafts" and was "a feasible alternative to hydrocarbon (oil) fuel."
But the NCRD cited a number of caveats: deuterium extraction can be done through electrolysis, but the process is expensive; and nuclear fusion, the process through which deuterium can become a "tremendous source of energy," was (and still is) "very much in the research phase."
The NCRD also revealed what scientists had determined after the discovery of deuterium in 1931: all water has deuterium.
"Deuterium exists in all types of water such as seawater, river water, ground water, rain and snow," it said, adding that in water, "there is one deuterium atom for every 6,700 atoms of hydrogen."
In NCRD's view, deuterium production was not a bad venture—if very expensive and likely impractical—for the Philippine government to go into, but this should not be done on the belief that there is more deuterium in Philippine waters than anywhere else.
The NCRD made this more explicit in an article titled "OEA Paper Debunks Deuterium Myth" in the October-December 1988 issue of Energy Alternatives. Citing OEA Energy Research Laboratory chief Zalson Espino and Nonconventional Resources Division chief Conrado Huruela, it stated that "scientific facts make it impossible for deuterium deposits to be lodged in the Philippine Deep."
The article further stated that breaking up deuterium oxide or "heavy water" to obtain deuterium gas "requires electric current [i.e., electrolysis] and cannot be initiated in water simply by high pressure [i.e., at the bottom of the Philippine Deep]."
"Even if, by some natural process, deuterium gas gets isolated from water, its natural tendency would be to rise and escape into the atmosphere [not, say, stay in the ocean depths] because it is much lighter than water," it continued.
"The claim, therefore, that deuterium can be mined from the Philippine Deep and used to generate electricity is utterly fallacious and without basis," the piece concluded.
"Oceanographic hallucinations." That was how Roger Posadas, a PhD in physics and former dean of the College of Science at the University of the Philippines, characterized Escosa's deuterium claims in a March 15, 1988 report in the Manila Standard. He called Escosa a "pseudo-scienfic swindler."
As noted by Rappler in a January 19, 2021 fact check, all this lines up completely with peer-reviewed papers published well before Escosa started appearing in the news, such as "Deuterium Content as a Parameter of Water Mass in the Ocean" by Yoshio Horibe and Nobuko Ogura in 1968. Another one published in 2012, "Isotope Composition and Volume of Earth's Early Oceans," affirmed that hydrogen isotopes actually rise — not sink – in the ocean.
Despite all this —and the much-publicized debunking of an alleged breakthrough "cold fusion" experiment involving deuterium conducted by American chemists Martin Fleischmann and Stanley Pons in 1989 — the scam went on.
In 1989, Tarlac Rep. Herminio Aquino accused Escosa of defrauding some 10,000 applicants in a deuterium mining project. The congressman said that Escosa's firm charged P5 "for application forms" and P10 for notarization when it had "already been established that there are no deuterium deposits in the Philippines."
ENTER THE MARCOSES
There is no credible proof that the Marcoses were already attached to deuterium claims while the family patriarch was still president. In the last book attributed to him, A Trilogy on the Transformation of Philippine Society (1988), the dictator very briefly mentioned deuterium as a possible energy resource. In the portion on planned programs, Marcos Sr. said "oil exploitation and other indigenous energy deposits like coal, uranium and deuterium shall also be looked into."
The deuterium dream was still alive in the early 1990s. A story in the textbook Growing Up Gracefully (Rex Book Store, 1991) partly used the deuterium hoax to illustrate the value of the country's natural resources. It said that deuterium was "like diesel oil and is used for cooking, lighting, and for transportation."
"With our big deposit of deuterium," a character in the story said "the Philippines could be one of the richest countries in the world."
But by the late 1990s, deuterium was no joke to Imelda. Before withdraing from the 1998 presidential derby, she talked about deuterium as a possible solution to the country's economic troubles. It is unclear where Imelda picked up this advocacy, but Escosa's discussion on deuterium in his continued public appearances may have contributed to her "education" on the topic.
According to Couttie, "the deuterium scam was firmly affixed to the Marcoses and Imelda promoted it heavily through amenable media people" by 2004 as Imelda often talked about this in interviews with both local and foreign media.
Over time, Imelda and her allies started to claim that she owned the deuterium deposits or the rights to them.
HYDROSPHERE RESOURCES FOR MOTHERING, INC. 
What can be ascertained is that on March 31, 2005, a firm named Hydrosphere Resources for Mothering, Inc. applied for an offshore exploration permit in Davao Oriental. The following day, it also filed an application for a permit for the "exploration and development of gold, copper and other base metal resources" in the town of Gen. Luna, Surigao del Norte.
The firm's address was 204 Mariano Marcos Street corner P. Guevarra Street, San Juan, Metro Manila— the main residence of the former first family before Marcos Sr. became president. The two documents are on display at the Batac World Peace Center/Marcos Photo Gallery, a museum Imelda set up near the Marcos Presidential Center/Mausoleum.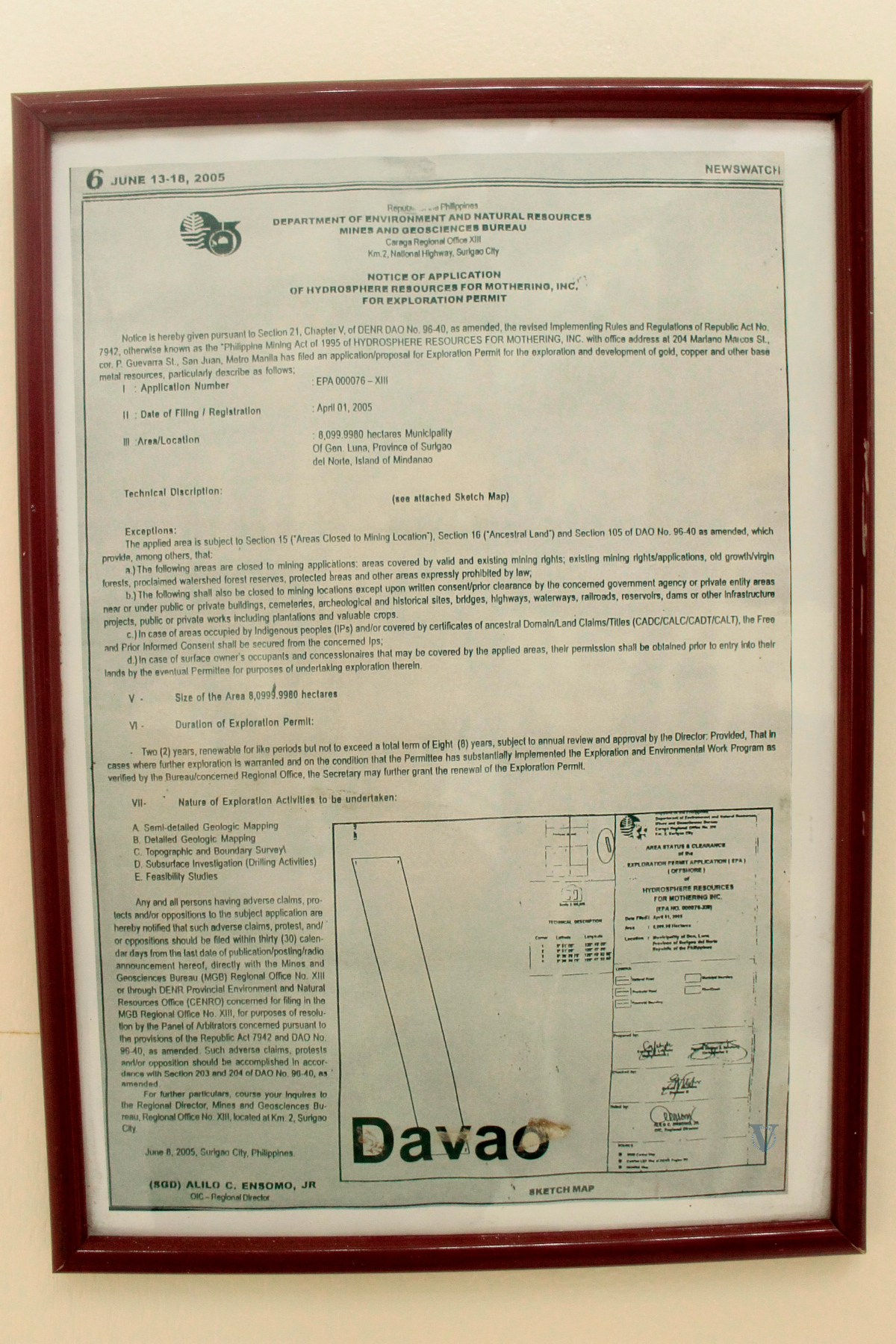 Both applications were denied, but another one was filed by Hydrosphere on April 5, 2005.  This time  it was for an exploration permit for  "gold, copper, platinum, tungsten, etc." in Guian, Eastern Samar."  This too was rejected because of the company's failure to submit by the May 22, 2013 deadline the minimum capital requirements for mining applicants.
In short, Hydrosphere does not currently have any valid mining exploration permits on any of these sites along the Philippine Trench on the country's Pacific coast.
A map of the Philippines adorns the "Twin Mansion" in Cabuyao, Laguna, one of the Marcos properties sequestered by the Presidential Commission on Good Government but is curiously still sometimes used by the family. Online pictures show that the map depicts the Philippines's GOD — Gold, Oil, Deuterium, with the "D" located the "Phil. Trench, Deepest Part of the World." Similar imagery can be found in Imelda's Batac World Peace Center.
In Imelda: Mothering and Her Poetic and Creative Ideas in a Troubled World (2012), which is in many ways a rehash of Imelda's other book Circles of Life, the former first lady tells the author, Cecilio Arillo, that deuterium is "the strategic energy of the future" and that "some people are already calling the Philippines as 'God:' gold, oil and deuterium."
In a 2013 with Norman Pearlstine of Bloomberg Businessweek, Imelda claimed that she spent "millions of dollars a year to maintain her exclusive right to extract water from [the Philippine Trench] in the hope that having an abundance of deuterium can speed the development of advanced nuclear fusion reactors."
Imelda's Statements of Assets, Liabilities, and Net Worth when she was a member of Congress from 2010 to 2019 does not show any such payments.
The former first lady likewise said she had known about the deuterium deposits as early as the 1970s when Edward Teller, known as the Father of the Hydrogen Bomb, "persuaded her to develop her country's deuterium in a 1971 visit to the Malacañang Palace."
The register of Edward Teller Papers in the Hoover Institution Library & Archives in California shows that Teller, who died in 2003, visited the Philippines in 1981 to discuss matters such as nuclear fusion in conferences held in the country.
In later years, Imelda would drop Teller from her deuterium soliloquy and replace him with Harold Urey, "the discoverer of deuterium." By this time, she claimed that it was Urey, who died in 1981, who informed her of the deuterium deposits in the Philippines.
Imelda, a notoriously unreliable narrator, repeatedly insists that Irving Berlin wrote the song "Heaven Watch the Philippines" specifically for her. The American composer himself denied this, according to a note in the interview of the Marcos couple published in the August 1987 issue of Playboy.
In the documentary The Kingmaker, Imelda says with a straight face that she visited the Calauit Safari Park after she returned from exile in 1991 and was saddened at what it had become. A caretaker interviewed in the documentary flatly denies this.
By 2015 Imelda and her son began doubling down on their deuterium claims.
In a video posted in one of the Facebook pages of the Marcos loyalist group Friends of Imelda Romualdez Marcos (FIRM), Imelda is seen hawking deuterium in, of all places, the wake of one of her most ardent supporters.
"[Mayroon] akong produkto na deuterium," she says before the mourners that included the husband of the deceased. "Siya and magiging ating pang-gasolina . . . 20 centavos of deuterium is your fuel per month."
Imelda said she would be meeting someone about deuterium the next day (the wake took place around late April-early May 2015). She added that FIRM would be the "foundation of the mission for mothering world peace" and that they would bring peace on earth using deuterium.
Shortly after, Bongbong, in an interview in the June 29-July 6, 2015 issue of BizNews Asia, said that his "mother had access to deuterium deposits," which had "bequeathed" to her grandchildren.
Imelda found new partners in deuterium ventures within the last seven years, including one with groups such as the MHLK (M for Maharlika) Foundation and the Official Maharlika Association (OMA) where she is "Chairman – Emeritus."
A photograph of an OMA board meeting with Imelda at the helm can be seen on its website. In one video of an OMA event held in late 2019—shortly before the pandemic, and about a year after Imelda's conviction for graft by the Sandiganbayan—she claimed that the "vision" of the deuterium project was "paradise regained unto infinity" and that, contrary to her earlier claims, she had been involved in deuterium, "for several decades, even before [she] was first lady."
Beside her while she delivered her speech—where she also claimed that she seeded the money that gave birth to Silicon Valley—was businessman Paul Monozca, chairman and CEO of OMA and related firms Formula Green Corporation and Formula Green Foundation. In recent years, Monozca made the news—before actually making the news via OMA's "affiliate," Maharlika TV— because of his involvement in the controversial planned Coral World Park in Palawan.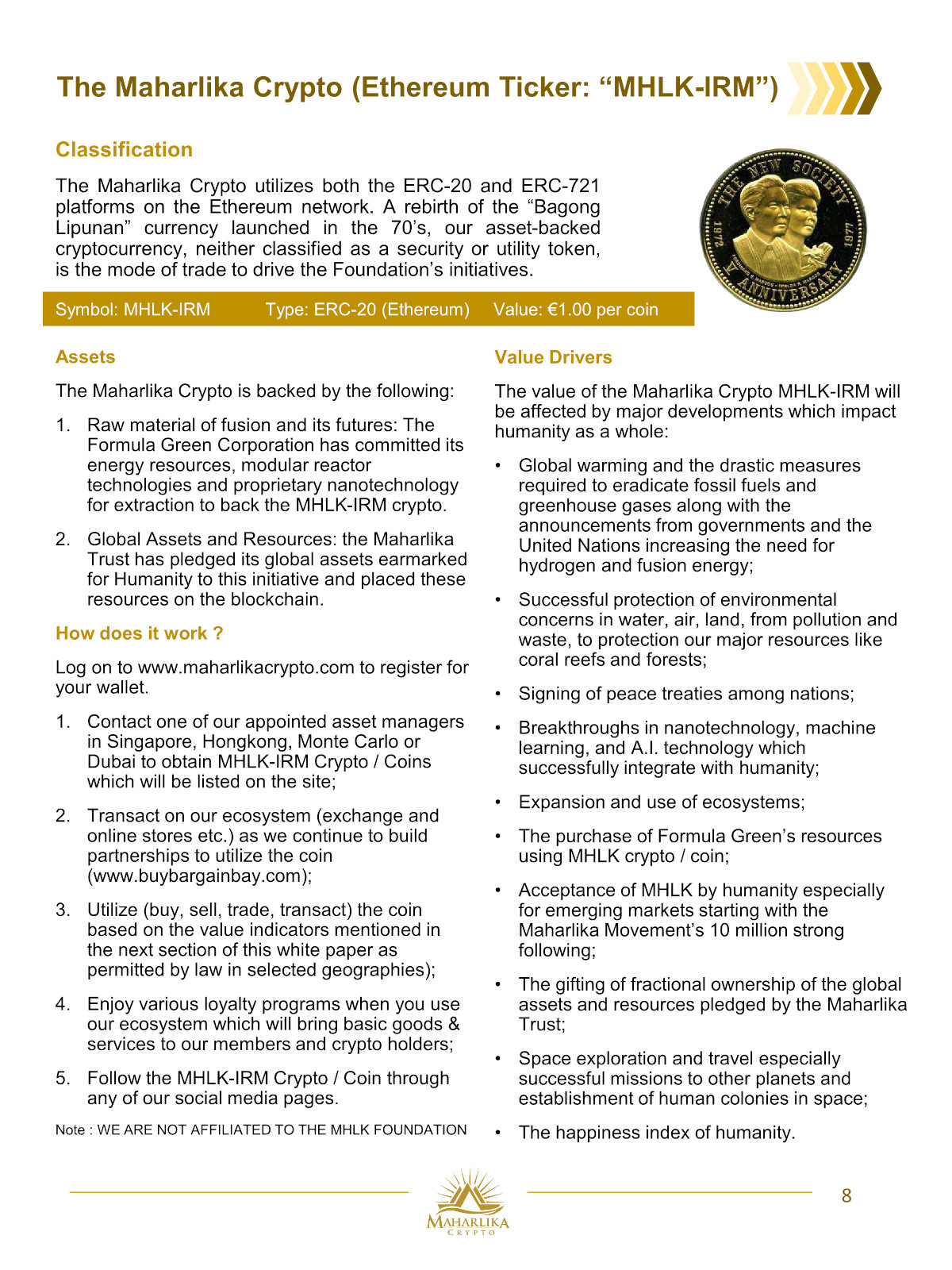 A document titled "Maharlika Crypto Whitepaper 2020-2021: An Asset-Backed Cryptocurrency Issued by the Formula Green Foundation for Humanity" discusses yet another venture of the Maharlika/Monozca group: Maharlika Crypto, once also called Maharlika Coin or the MHLK-IRM (presumably Imelda Romualdez Marcos) crypto.
The white paper claims that this cryptocurrency—perhaps closer in description to a toke—is backed up by the "Global Assets and Resources" of the "Maharlika Trust," "the second largest philanthropic fund in the world," and the "raw material of fusion and its futures." These "futures" refer partly to Formula Green's "concessions of the world's largest deposit of the raw material of fusion energy called 'Deuterium' and stakes in the industry verticals including hydrogen economy."
OMA is supposed to be a "movement of 10 million followers." Among its "eight key groups" is the "Talleano Estate (direct heir)." While the Marcoses have repeatedly denied having ties to the Tallanos and the Tallano gold claim, the tale of the Kingdom of Maharlika ruled by the Tallanos, purported owners of the entire Philippine archipelago, appears on the website of the Marcos-affiliated party Kilusang Bagong Lipunan.
A further online search leads to a central document of the Tallano myth, the alleged Original Certificate of Title of the whole Philippines. An annotation in this "OCT-04"—several times proven fake—shows another connection of the myth to deuterium fakery: purportedly made in 1941, ten years after the discovery of deuterium. The annotation states that "Dr. H. F. Bain, Mining Affair Adviser to the Philippine Commonwealth" found "in the area 75 kilometers Southeast of Mindanao, a large undeterminable volume of Deuterium."
It appears that practically every major Marcos-related group—from FIRM, which claimed in 2019 to have eight million members to the supposedly 10-million strong OMA— are closely linked to Imelda's deuterium claims.
The Marcoses are also connected to other groups giving away deuterium share certificates: the Royal Alpha Omega Ring Trading Corporation and Philippine Deuterium Development Management Corporation. In April 2018, then Ilocos Norte governor Imee Marcos attended the birthday of the group's founding chairman, Mahal na Hari (MNH) Filemon O. Reambonanza.
Even one of Imelda's closest supporters and founder of Marcos Loyalists for God, Country and People, Serafia "Cherry" Cobarrubias, is listed as a board member of the MHLK Foundation. Yet another staunch Marcos defender, Rita Gadi, in the June 9, 2020 episode of her online program The Rita Gadi Hour, claimed that in the middle of the pandemic, Imelda was "finishing" ("tinatapos na") the deuterium project which had a permit from the government.
Gadi said Imelda already had the instrument needed to extract deuterium from the Philippine Deep and only needed investments "na kanyang inaayos ngayon." She repeated Imelda's line about "paradise regained unto infinity," and expressed belief that Imelda may be able to finish her deuterium project within that year and then, "maibibigay na niya sa atin sa Pilipinas 'yang deuterium, the fusion of water and the energy."
Of course, 2020 came and went, but deuterium from the Philippine Deep remains a pipe dream.
WHAT'S IN IT FOR THE MARCOSES
Peddling the lies about deuterium have served the purpose of the Marcos family which has been clawing their way back into power over the last three decades.
After returning from exile, Imelda seemed to have latched on to Escosa's deuterium claims. The imagined deuterium riches of the country would effectively undo the two most damaging legacies of the Marcos dictatorship: a plundered economy and a generation of Filipinos sent into a diaspora to earn a living.
From a propaganda point of view, the deuterium hoax has detracted from public discussions the Marcos plunder — that it is permissible to abandon the effort to recover their ill-gotten wealth since deuterium's promised bounty would replenish what was stolen from the country's coffers. Imelda said as much in a February 25, 2006 feature on her by The Independent.
"Our problems are temporary. All I am waiting for is for my lawyers to end these cases against me and I will bring about a new economic order," she declared.
Barely questioned by media and scientists on this, both Imelda and Bongbong continue to use the deuterium hoax in projecting themselves as advocates for a green environment and hope for the country. The promise of bounty —be it the Yamashita treasure, the Tallano gold, or deuterium in the Philippine Trench — calls for the surrender of the people's trust to the machinations of the Marcoses.
It is the ultimate mother-and-son scam.